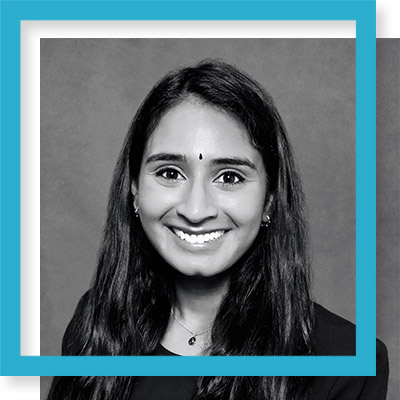 Medical School: David Geffen School of Medicine
Abhinaya Narayanan, a 2021 Pisacano Scholar, graduated from the David Geffen School of Medicine at the University of California, Los Angeles (UCLA), and is currently a 2nd-year resident in San Francisco, California. She graduated from the University of California, Berkeley (UC Berkeley) with a Bachelor of Arts in public health and integrative biology and completed a Master in Public Policy at the Harvard Kennedy School.
As an undergraduate at UC Berkeley, Abhinaya worked as a community organizer in Oakland, CA with the Alliance of Californians for Community Empowerment and served as the Student Director of the Oakland Community Builders program. She collaborated with the Alameda County Department of Public Health to document the health impacts of cuts to public transit lines and helped organize campaigns to fight for a free youth bus pass, renter's rights, and a living wage. Listening to, learning from, and building power alongside communities most impacted by racism, structural violence, and health inequities set her on a trajectory towards family medicine and public policy. Upon graduation, she received the Chancellor's Award for Public Service for her commitment to advancing social change through public service.
After completing her undergraduate studies, Abhinaya led primary care workforce policy at the California Academy of Family Physicians for nearly three years before entering medical school. As Manager of Workforce Development, she lobbied for investment in Medi-Cal, the critical public insurance program which covers one out of three Californians, built a new statewide network of family medicine residency programs, and helped win a $100 million state appropriation to primary care residency training in underserved communities.
During medical school at UCLA, Abhinaya served as co-chair of the Family Medicine Interest Group, Medical Education Committee representative on the Medical Student Council, and co-president of the American Medical Association chapter. Abhinaya also co-founded the Health Equity Hub, a physical space dedicated to cultivating solidarity and student organizing, and successfully campaigned for a longitudinal mandatory structural racism and health equity curriculum for which she serves as a tutor. After completing her 3rd-year clerkships, Abhinaya was inducted into the Gold Humanism Honor Society.
During her graduate education at Harvard, Abhinaya worked on a campaign to end cash bail in Baton Rouge, interned with the Los Angeles County Department of Public Health and produced research and recommendations to address food insecurity in the wake of the COVID-19 pandemic. As part of her thesis, she created a policy agenda for the Latino Coalition for a Healthy California focused on advancing community health workers. For these contributions, she was awarded the Robert F. Kennedy Award for Excellence in Public Service.
Abhinaya ultimately hopes to work in the public safety net, caring for historically marginalized and underserved communities while advocating for her patients inside and outside the clinic. She aspires to be a family physician who provides excellent full-spectrum medical care to directly address health disparities, supports social movements that challenge injustices, and leverages her policy training and experience to help build medical systems and a society that protects the health, dignity, and well-being of all.