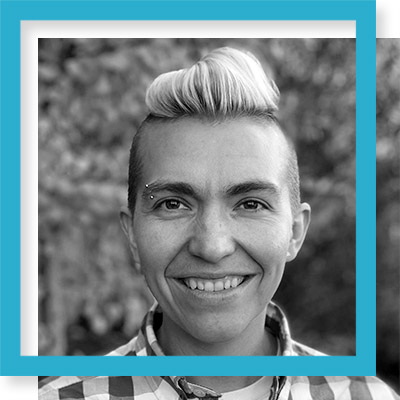 Emiliano Lemus Hufstedler
Emiliano Lemus Hufstedler
Medical School: UC-San Francisco School of Medicine
Emiliano Lemus Hufstedler, MS, a 2021 Pisacano Scholar, graduated from the University of California, Berkeley-University of California, San Francisco Joint Medical Program, and is currently a 2nd-year resident in Richmond, California. They are also a health disparities researcher and trainer on transgender-affirming healthcare. After completing a bachelor's degree in biochemical studies at Harvard College, Emiliano worked for a decade as a community organizer, serving as founding director of Erósfera, Center for Sexual and Reproductive Health and Rights in Puebla, Mexico, and co-director of Bluestockings Activist Center in New York City.
Emiliano's work in medical school has included participation in the Program in Medical Education for the Urban Underserved (PRIME-US), coordination of a free clinic for street-based youth and LGBTQ patients, organizing with the Joint Medical Program chapter of White Coats for Black Lives, and mentoring LGBTQ premed students and other students from backgrounds that are underrepresented in medicine. Their recent research explores and advocates for the health needs of transgender youth experiencing homelessness.
Alongside school, Emiliano regularly leads trainings on transgender-affirming care, sexual health, sex positivity, and integrative health for audiences ranging from attending physicians to chaplains and even community teenagers. They have developed curriculum and served as a trainer independently as well as for organizations including the Pacific AIDS Education and Training Center and San Francisco General Hospital's Sojourn Chaplaincy.
Acknowledging the importance of traditional healing modalities for providing holistic care for minoritized communities, Emiliano has sought training as a clinical herbalist, and maintains a community herbalism practice focusing on transgender health. Emiliano is also co-editing a book on herbalism for transgender health, and provides free health information via The Herbal Highway, the most widely listened-to herbalism radio show and podcast.
Emiliano looks forward to practicing community-based integrative primary care for the LGBTQ community, as well as for BIPOC (Black, Indigenous and people of color) and Spanish-speaking Latinx immigrant communities. As a lifelong community organizer, Emiliano is excited to continue advocating for the health of their communities via activism and research on structural determinants of health. Emiliano particularly dreams of founding an integrative LGBTQ community and family health center where LGBTQ people and allies are supported by an interprofessional team, including Western and traditional physical and mental health clinicians, resource navigators, and arts and cultural workers who will offer public programming.
Emiliano is trans, proudly Chicano and Indigenous, and a parent to five chickens and a poodle. They love living in Oakland.