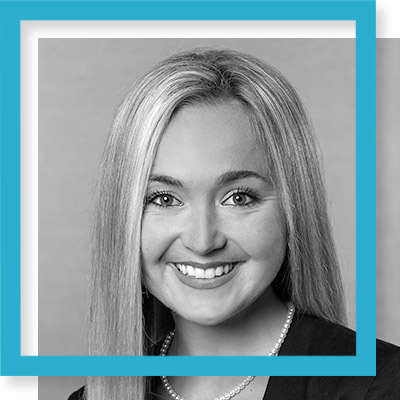 Medical School: Northeast Ohio Medical University
AuBree LaForce, a 2020 Pisacano Scholar, graduate from Northeast Ohio Medical University and is currently a 3rd-year resident in Akron, Ohio. AuBree graduated summa cum laude from the University of Mount Union with a Bachelor of Science in biochemistry and a minor in biology, earning University Honors.
During her time at Mount Union, AuBree played point guard for her college's basketball team, which she credits for preparing herself for her role as a health coach. In this role, she provided health maintenance care for underserved patients. AuBree worked with an interprofessional team at a local hospital to coordinate her patient's care and further address the medical and social needs of high utilizers of medical services. She founded the university-wide Love Your Melon Chapter – a nonprofit organization dedicated to giving a hat to every child battling cancer in the country. Networking with multiple Cleveland Hospitals to plan Superhero Visit Days, AuBree and her 10 team members dressed as superheroes to deliver hats to pediatric patients. As an Honor Society student, AuBree completed a semester long research project and presented her work, The Diversity of Mount Union, at the Research Honors Forum.
As a participant in the Rural Pathway at NEOMED, AuBree is able to fulfill her passion for caring for the underserved. She was able to remain a health coach for an additional two years, working with underserved patients while enhancing her medical skills. During her first year of medical school, AuBree participated in a medical mission trip to Peru, where she provided primary care to pediatric patients in the villages of Ayacucho. AuBree previously served as vice president and chair of the Advocacy and Policy for NEOMED's Family Medicine Interest Group. After winning Program of Excellence in 2018, her group was selected to participate in the Primary Care Leadership Collaborative. They were successful in influencing the new curriculum by ensuring that students receive frequent, positive primary care exposure earlier in their preclinical years. Entering NEOMED, AuBree received the prestigious Education for Service scholarship, a full-tuition scholarship in return for service in primary care in an Ohio community.
AuBree participated in Healer's Art at NEOMED, a semester long program offered to students who want to explore the value of relationships, service, compassionate care and reverence for life. She regularly volunteers and has held leadership positions in the Student Run Free Clinic (SRFC), serving as scheduling manager and student representative, as well as a member of the Community Advisory Board.
AuBree was inducted into Alpha Omega Alpha Honor Society her junior year and was recently appointed by Mike DeWine, the governor of Ohio, as the student representative to the NEOMED Board of Trustees. Currently, she serves as the student delegate to the American Academy of Family Physician's American Medical Association Medical Student Section and as the Student Delegate to the Ohio Academy of Family Physicians' Foundation Board of Trustees. She has served two terms as Ohio's delegate to the AAFP's National Conference. Most recently, AuBree was elected as the Student Chair of National Conference for the American Academy of Family Physicians for 2021 in which she will also serve on the Commission on Education.
AuBree is extremely passionate about family medicine and is enthusiastic to practice in Northeast Ohio to serve the community that raised her. She plans to provide full-spectrum, compassionate care that encompasses all components of health, including aspects outside of the exam room. Her desire to serve the underserved will guide her pursuit to include rural communities in her care. She envisions herself as a "generationalist," building longitudinal relationships with every patient regardless of age, gender, and ethnicity – generation after generation.