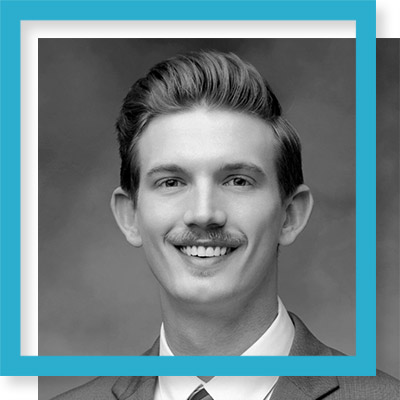 Medical School: UT Health San Antonio Long School of Medicine
Garrett S. Kneese, a 2021 Pisacano Scholar, graduated from the University of Texas Health San Antonio Long School of Medicine (UTHSA), and is currently a 2nd-year resident in San Diego, California. As a first-generation college student, raised between Houston and Fredericksburg, Texas, Garrett earned an undergraduate degree in biology at the University of Texas at San Antonio as a part of a 3-year BS/MD program.
Garrett's dichotomous upbringing in urban and rural settings gave him a sense of the duality of lifestyles experienced by Texans. Between the peach ranches of central Texas and the urban bayous of Houston, a blended sense of living and perspective on community was established. Before arriving to his now home of San Antonio, Garrett served through Rotary International on local, regional, & international projects, establishing an intimate understanding of intersectionality and globalization in volunteerism through the organization's motto: Service Above Self.
As an undergraduate student, Garrett served as a leader of his university's Health Ambassadors (a community-based health promotion organization), a student tutor to the charter elementary schools of the city, and as a founder of the institution's first nationally-competitive triathlon team (a hobby he enjoys to this day). Perhaps the most impactful pursuit was that of his time in Amsterdam, Netherlands and London, England, where he comparatively studied the countries' respective public healthcare systems in reference to our own in the United States, thus sparking his interest in systems-level change with regard to primary care and health service accessibility.
Upon arriving to medical school, Garrett began a community-oriented approach to the health and wellness of his own medical class, starting the ScribeMD anonymous pen pal program for his classmates to confide in and grow with one-another, a published program that has been implemented by other medical schools across the country. Meanwhile, he volunteered on a regular basis as a fervent supporter of their student-run refugee clinic, nurturing his passion for and competencies with underserved and globalized patients and their families.
Garrett spent two years away from medical education as a public health practitioner, first in the country of Ecuador, serving as a program director and consultant with the Ministries of Public Health & Education and Cacha Medical Spanish Institute, respectively, as the lead on an adolescent sexual health education program for their public school system. This led to another opportunity with the arrival of the COVID-19 pandemic to serve as a program manager and humanities fellow for the UTHSA Center for Medical Humanities and Ethics, coordinating the Community Health Clubs network of Brownsville along the Texas-Mexico border as they addressed pandemic misinformation and vaccine hesitancy.
Currently, Garrett is working with the American Board of Family Medicine to investigate residency scope of training and its implications with ultimate scope of practice. Following his training he looks forward to a multi-endeavored career balancing community-oriented primary care, public health programming, teaching of the next generation of family doctors, and leadership in the specialty of family medicine that he holds dear.