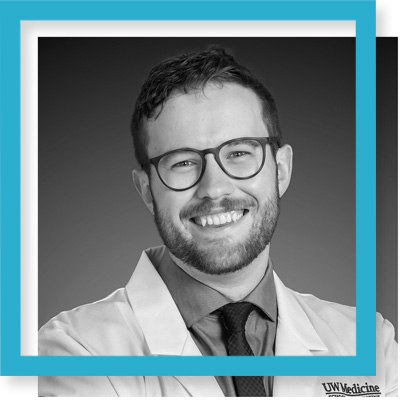 Medical School: University of Washington School of Medicine
Kevin Glover, a 2023 Pisacano Scholar, is a 4th-year medical student at the University of Washington (UW) School of Medicine in Seattle, Washington. He earned his undergraduate degree in Biology at Whitworth University in Spokane, Washington. He is a first-generation college graduate from a small town in Nevada and was lucky to have parents who read to him growing up.
Medicine was not on Kevin's radar in college, and in his senior year he received a grant to develop a trauma-informed outdoor leadership curriculum for at-risk adolescents. Working with a youth-serving adventure non-profit, Kevin brought together regional experts on developmental psychology, outdoor leadership professionals and youth advocates to build an eight-week summer curriculum to empower participants through adventure leadership. He got to spend those eight weeks guiding a group of incredible teens through alpine climbing, backpacking, and white-water rafting.
After several more years in youth development, Kevin was looking for a broader platform for advocacy and decided to apply to medical school. Like many aspiring doctors, the late Paul Farmer's equity-centric values were all over his medical school essays. He matriculated into UW's Targeted Rural Underserved Track, which offers a longitudinal education in rural communities that brings together clinical learning, service, and community engagement.
His preferred style of leadership is to be an aggregator, bringing together diverse perspectives on community issues and finding ways to use institutional capital to elevate marginalized voices. He led a community-based, participatory research study on the factors affecting access to primary care for refugees in Spokane. Hearing the experiences of resettled refugees prompted Kevin and colleagues at UW to lobby the Washington State Medical Association to lower barriers to interpreter certification testing. Kevin also helped establish a pilot project partnering with local homelessness advocates and a free clinic to place medical students as a 'bridge to care' in low-barrier housing. All of Kevin's most meaningful activities have been collaborations with gifted peers, mentors, and community partners.
Kevin views balance as a key way of life in medicine. He prioritizes restorative time outside with his incredible fiancé, Kelsey, who is a professional ceramicist and licensed marriage and family therapist. They hike, bike, and run throughout the Pacific Northwest with their dogs, Trudy and Jill. He plays piano for enjoyment and enjoys reading, especially about ecology, natural science, and medical anthropology.