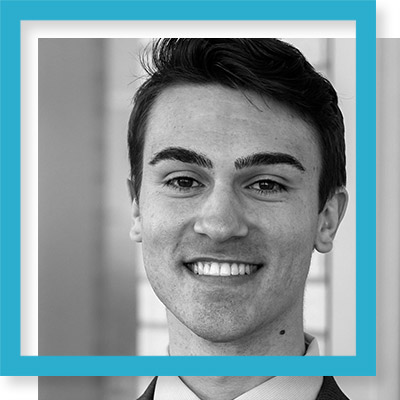 Medical School: Oregon Health & Science University School of Medicine
Jordan Gemelas, a 2021 Pisacano Scholar, graduated from Oregon Health and Science University (OHSU) in Portland, Oregon, where he also completed his MPH. He is currently a 2nd-year resident in Martinez, California. Jordan graduated from the University of Washington with a Bachelor of Science in public health.
Jordan's academic interests include social risk data in primary care, health of underserved and historically marginalized populations, health policy, and teaching. He began understanding the importance of population health during his upbringing in Madras, Oregon, a rural and underserved area. He noticed the profound impact of dedicated medical and public health professionals, particularly family physicians, on his community. This helped form the basis for his interest in studying public health at the University of Washington. While completing the honors track, he began to recognize the harmful impacts of separating health from healthcare. His longitudinal engagement with a Seattle emergency youth shelter helped him realize that we are only as healthy as our most vulnerable. These experiences drew Jordan to pursue both medicine and public health with the goal of bringing them closer together.
In medical school Jordan served as a co-lead of OHSU's Family Medicine Interest Group chapter which was subsequently named a Program of Excellence by the American Academy of Family Physicians in 2018.  While in this role, he and his colleagues implemented inpatient experiences for early medical students, a peer mentorship program, and a month-long lecture series intended to underscore the connection between family medicine and social justice. Additionally, he served on an advisory group to enhance exposure of medical students to rural and underserved community sites.  Jordan served as a mentor and peer advisor for local first-generation medical school applicants and teaches quarterly science lessons at Madras High School, which he attended.
Jordan has a passion for research and its translation into policy change, and he has served as a peer reviewer for several academic journals. His research and publications cover racial and ethnic disparities, the primary care workforce shortage, impacts of the Affordable Care Act, telehealth, and integration of social risk screening in clinical settings. He enthusiastically engaged with the Student Policy Scholars program administered by the Oregon Academy of Family Physicians. At the state and federal levels, he advocated for strengthening primary care infrastructure and reducing barriers for Medicaid and Medicare patients during the COVID-19 pandemic.
Jordan enjoys playing the piano, spending time outdoors, chess, using his hammock, eating Greek food, and commuting by bicycle wherever feasible. He values his family, friends, and Portland's many nooks and crannies.
During his career, Jordan hopes to explore the full breadth of family medicine as much as possible, with plans to work as a broad scope provider in rural, urban underserved, academic, and community settings. Ultimately he aims to leverage his public health and clinical training to advance the health of populations through research, teaching, leadership, policy, and direct medical care.