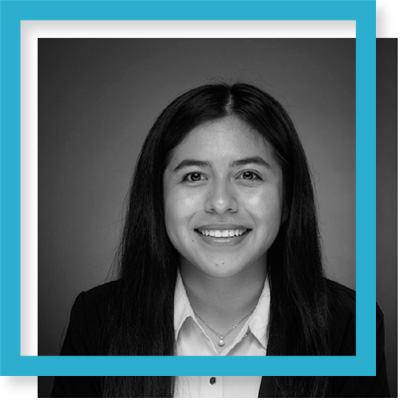 Medical School: Texas Tech Health Sciences Center School of Medicine
Nayeli Fuentes, a 2023 Pisacano Scholar, is a 4th-year medical student at Texas Tech University Health Sciences Center School of Medicine in Lubbock, Texas. In 2020, she graduated summa cum laude from Texas A&M University – Commerce with triple majors in mathematics, chemistry, and biological sciences with highest honors.
The daughter of Mexican immigrants, Nayeli grew up in a low-income Spanish speaking household in Mount Pleasant, a rural town in Northeast Texas. As a first generation Mexican American, Nayeli and her family faced the struggles of a language barrier, living paycheck to paycheck, and lack of health care insurance at a very young age. The adversities she faced throughout her life taught her early on how social determinants of health such as poverty, unequal access to health care, lack of education, and stigma are underlying contributing factors of health inequities. Upon graduating from high school, Nayeli knew she wanted to pursue a career in medicine to help address these disparities. However, her dream to becoming a physician seemed almost impossible being a first-generation college student. With the help of the Texas Joint Admission Medical Program, she successfully matriculated into Texas Tech School of Medicine in 2020.
In medical school, Nayeli served as part of the Leadership Team for the Lubbock Impact Free Clinic – a clinic that focuses on providing free, quality health care to the uninsured population of Lubbock County. While in this role, she and her colleagues safely facilitated over 900 patient visits that included specialty services like counseling, ophthalmology, dermatology, and a vaccine clinic. With the support of patient assistance programs, the free clinic delivered over $90,000 worth of medications to its patients for free. Additionally, Nayeli's team wrote procedures and protocols for safe reopening of the clinic during the COVID-19 pandemic.
A strong advocate of mentorship and service, Nayeli was also a four-year member of Texas Tech's prestigious student organization, the Dean's Ambassadors, where she served as president during her third year of medical school. In this role, Nayeli was invited as a keynote speaker to several school systems in low-income communities to share her journey to medical school and provided student success workshops designed to support first generation students pursuing a career in medicine. Her passion, determination, and resilience towards mentoring a diverse pool of low-income, first-generation students who are committed to changing the world through service was recognized through her induction to the Gold Humanism Honor Society.
As a physician, Nayeli aspires to go back home to rural East Texas where she hopes to open a free clinic. She sees herself providing free visits, medications, counseling, and other resources to the low income, uninsured, underserved community in East Texas. During her career, she also hopes to work in an academic institution to continue advocating for diversifying medicine and the importance of health equity to the next generation of physicians.