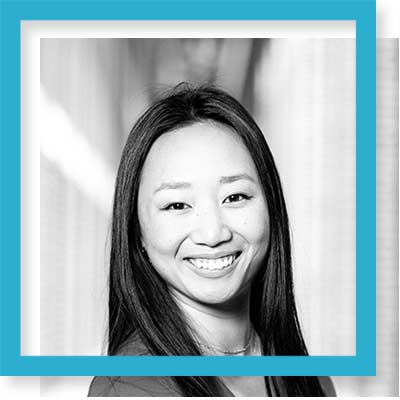 Medical School: University of North Carolina (UNC)
Residency: North Carolina
Jiyun Chang, a 2022 Pisacano Scholar, graduated from the University of North Carolina (UNC) School of Medicine and is currently a 1st-year resident in Hendersonville, North Carolina. She also completed her MBA at UNC. Originally from Christiansburg, Virginia, Jiyun graduated from Harvard College with a degree in human developmental and regenerative biology.
At Harvard, Jiyun was introduced to social inequities through her volunteer work. As a client advocate for LIFT, an organization dedicated to breaking the cycle of poverty, Jiyun focused on the economic empowerment of families in Somerville, Massachusetts. As her interest in health inequities grew, Jiyun joined HealthLeads at Massachusetts General Hospital. She connected patients to essential health resources like food, heat, and housing. She fell in love with these patients and was inspired to tackle health inequities through primary care.
After graduating from Harvard, Jiyun sought to learn more about primary care's role in alleviating health disparities by joining MedServe. She served at a Federally Qualified Community Health Center in Raleigh, North Carolina as a medical assistant and community health worker, focusing her efforts on social determinants of health screening and resource allocation. She also facilitated population health interventions, like FitBit challenges for prediabetic women, BabyBox programming for high-risk mothers, and free produce for diabetic patients.
At UNC, Jiyun became a Kenan Rural Primary Care Medical Scholar and rotated at Batish Family Medicine in Leland, North Carolina with Sanjay Batish, MD. During her rotations, a devastating shooting occurred in a local high school, reflecting the rise in gun violence during the COVID pandemic. This also hit home for Jiyun, who lived through the Virginia Tech Shooting in 2007 and experienced first-hand the harm to the entire community.
In response to this shooting, Jiyun partnered with Dr. Batish to facilitate honest dialogues with community leaders and stakeholders about the rising epidemic of gun violence and what role primary care could take. The Firearms Related Incidents from Gun Shows (FiRInGS) study was born and won a $50,000 grant. This study is ongoing and will evaluate the temporal association between regional gun shows and firearm events (injury, homicide, suicide, crime). It also seeks to compile firearm event data to be more easily accessed by community members and firearm researchers.
To gather more perspective on the broader healthcare system and a toolkit to solve system-level problems to be a better advocate for patients, Jiyun is currently challenging herself to learn leadership and communication skills by obtaining an MBA. She has already put her new skills to work through a summer internship with Aledade, an Accountable Care Organization contractor, to support community health centers in North Carolina in transforming to value-based care.
Following completion of family medicine residency, Jiyun dreams of practicing full-spectrum family medicine while being a Chief Medical Officer of a network of rural, community health centers in North Carolina. She hopes to anticipate the needs of her future community and to always include them at the table where decisions are being made.