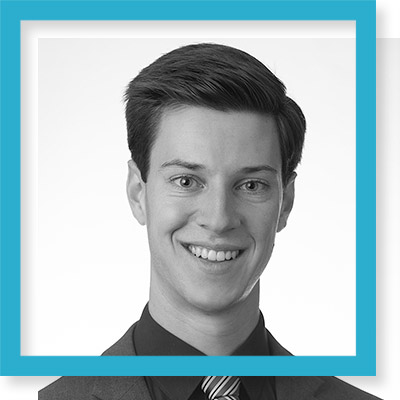 Medical School: Boston University School of Medicine
Preston Butler, a 2021 Pisacano Scholar, graduated from Boston University School of Medicine (BUSM), and is currently a 2nd-year resident in Seattle, Washington.  Originally from Maryville, Tennessee, Preston attended the University of Texas at Dallas (UT Dallas) and graduated with a degree in neuroscience as a Eugene McDermott Scholar, the university's preeminent scholarship designation.
As an entering undergraduate, Preston was named a Jack Kent Cooke Foundation (JKCF) College Scholar, an award created to support exceptionally promising students with financial need.  He has harnessed this support from the JKCF and the McDermott Scholars Program to advocate for marginalized communities.  He interned at the Human Rights Campaign, helping assemble the annual Healthcare Equality Index, a publicized review of LGBTQ-affirming policies and services at hospitals across the nation.  Preston also worked at Vanderbilt University Medical Center's Program for LGBTQ Health, where he co-authored research and advocated for inclusive practices benefitting LGBTQ patients and employees.  At UT Dallas, he developed his leadership skills as Vice President of CometTHON, a dance marathon fundraiser benefitting Children's Miracle Network Hospitals.  Preston also advanced his early skills in patient advocacy while volunteering at local hospitals and a free community clinic.  He combined his passions for dance and direct patient care by assisting with a community dance class for people with Parkinson's disease, too.
When considering medical schools, Preston was drawn to BUSM for the institution's clear emphasis on social determinants of health and the opportunity to care for a diverse population at New England's largest safety net hospital.  He was selected for a first-year interdisciplinary training program in which dietetic, social work, and medical trainees share a patient panel in a Family Medicine clinic at an FQHC.  From that experience, Preston grew a deep appreciation for interdisciplinary practice in Family Medicine.  He went on to work as a nursing assistant to more fully understand the complimentary skill sets of a complete healthcare team.  At BUSM, Preston continued to advocate for LGBTQ patients by leading Service Pride, a service learning group that volunteers in a foster home for LGBTQ youth and is funded by a grant that he and his co-leaders secured from the Massachusetts Medical Society. Preston also promoted Family Medicine as leader of the BUSM Family Medicine Interest Group.
His commitment to community, primary care, and care of underserved populations led to Preston's selection for the National Health Service Corps in his third year of medical school and the Gold Humanism Honor Society in his fourth.  Given this recognition, it comes as no surprise that Preston plans to dedicate his career in Family Medicine to supporting the health of medically under-resourced communities.  He seeks to practice full-spectrum care with emphasis in maternal and child health and LGBTQ health, promoting interdisciplinary practice, equity, and antiracism among other focuses.
Outside the classroom and clinic, Preston is an avid outdoor enthusiast.  He grew up near the Great Smoky Mountains and has learned to take every opportunity to hike through the forest since leaving the foothills of his hometown.  Preston also enjoys baking, dance, volleyball, and biking.