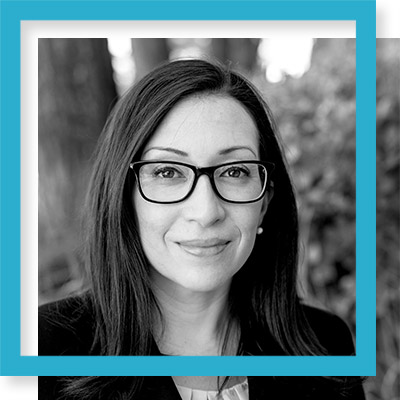 Medical School: Keck School of Medicine of USC
Andrea Banuelos Mota, a 2020 Pisacano Scholar, graduated from the Keck School of Medicine of the University of Southern California (KSOM) and is currently a 2nd-year resident in Santa Monica, California. She graduated from the University of California, Berkeley with a Bachelor of Arts in American studies and is completing her Master of Public Health at KSOM.
As an undergraduate at UC-Berkeley, Andrea served as co-chair of a student-led organization named Chicanos/Latinos in Health Education, providing health care services to low-income minorities. After graduating from college, Andrea worked for two years as a housing unit facilities manager, where she managed a non-profit 356 member-housing cooperative for UC-Berkeley students. Andrea then returned to her hometown of Pacoima, California where she worked for five years as the Assistant Manager of a free clinic named Meet Each Need with Dignity (MEND). She developed a weight management program tailored to the needs of the community.
As a medical student, Andrea has served as co-president of the KSOM Family Medicine Interest Group (FMIG) and as Secretary of the school's chapter of the Latino Medical Student Association. During her tenure with the KSOM FMIG, she and her colleagues created the first Primary Care Summit, co-founded a Primary Care Progress chapter, and the group later developed a Primary Care Leadership Conference. In 2018, their chapter was selected by the American Academy of Family Physicians to receive the AAFP Program of Excellence Award. During her second year of medical school, Andrea was selected as the 2017–2018 AAFP Emerging Leader Institute (ELI) Scholar. She received the ELI Project Award for her development of a leadership needs assessment for the medical school's curriculum. She recently presented her findings at the 2020 Society of Teachers of Family Medicine Medical School Education Conference, and now serves as the ELI Ambassador. Andrea served as the student council co-chair for the California Academy of Family Physicians for two years and has served as a mentor and tutor for other students and organized conferences and events to encourage high school and undergraduate students to pursue medicine.
Andrea has been involved in many community service projects and has received several awards as a medical student. She was inducted into the Gold Humanism Honor Society in 2019-2020 and received the Kaiser Permanente Oliver Goldsmith, MD Scholarship for the promotion and advancement of culturally responsive care-Award. In 2019, she was also one of two students to receive AAFP's Family Medicine Advocacy Summit Student Scholarship Award. She is co-founder and vice president of DETOUR, a student interest group whose aim is to increase visibility of and provide resources to students taking alternate routes to graduation in medical school. Andrea is active in research, concentrating on health policy and investigating the identification of patient barriers to medication adherence amongst underserved Latino patients with Diabetes.
As an aspiring family physician, Andrea envisions her future career entailing working in a primary care clinic for underserved patients while also being engaged in population health projects. She also plans on continuing her advocacy efforts at the local, state and national level. She would like to one-day become a program director for a family medicine residency program and help train future generation of family physicians while working with the health care system to constantly improve the care of her patients.
In her free time, Andrea enjoys spending time with her family and friends, cooking traditional Mexican meals and exploring other world cuisines. She also enjoys painting, dancing, at-home yoga workouts, reading non-fiction books, listening to music and podcasts and watching baseball.